Want to buy? Villas for Sale around AlgheroJump to the list of Villas
Stintino is situated 40 Km North of Alghero. Stintino's protected country side and shores are as untouched today as they were one hundred years ago. The purity and beauty of its nature cannot fail to delight!
On the journey from Alghero to Stintino, the essence of the landscape changes from turquoise beaches to tall, rugged rocks overlooking the sea. This pristine corner of Sardinia is home to one of the Mediterranean's most spectacular vistas. The dawn rising on La Pelosa beach, touching the white extension of sand and plunging into the Polynesian blue of the water, will leave you with a lifelong memory of stunning beauty!
Our Villas in Alghero
Villa Oliveto
Alghero. Sleeps 8. Large swimming pool. A short drive to secluded beach.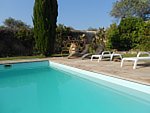 Beautiful period house surrounded by large grounds and a walled garden covered with climbing plants and flowers. The villa borders a olive grove with ancient beautiful trees. The house has a unique charm and will give guests the chance to discover and get closer to the ancestral spirit of this island and its sheer beauty.
Casa Ramo D'Olivo
Sleeps 6+2. A villa which holds Alghero's infinite charm. Enclosed by olive trees, the terrace overlooking the stunning bay. Private swimming pool. Wi.Fi. Air-conditioning.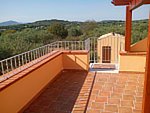 The stylish refurbishment has created a house which offers modern comfort but also the natural charm of a Mediterranean casa in campagna; a cosy, stylish place to come and relax and regain energy in a peaceful environment.
Casa Mia
Sleeps 4+2. Alghero. Modern apartment with a small terrace. Air conditioning. Wi-fi.
A cozy and modern apartment in Alghero not too far from the Medieval centre and the Lido. The Lido of Alghero is a long promenade alongside Alghero's white sandy beaches, where in the evening one can see the Old Town dressed up in soft orange shades as it lights up for the night.
Villa Elicrisio
Sleeps 10. Alghero. A luxury villa with a sunset facing swimming pool.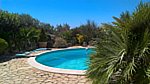 Among shrubs and reefs, Villa Elicrisio hides its large and beautiful garden filled with palms and lush fig trees. Lots of privacy certainly characterizes this charming summer home.
Villetta Zinnibiri
Sleeps 4. Fully restored old barn on Alghero's coastline.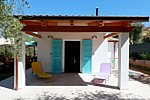 Quaint small villa newly built on the ruins of an old barn. Rebuilt with maximum comfort in mind, offers very high standard living spaces and modern facilities. The house is perfect for a small family of 4 or a group of friends.
Villa Clarissa
Alghero. Sleeps 8-16. Large private swimming pool. Large garden.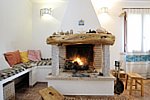 Amidst olive groves and orchards in peaceful country surrounding, close to white sandy dunes and Alghero's lively old town. Set within 1.5 hectares of private grounds. Air-conditioning available.
Villa Sa Stella
Near Alghero. Sleeps 4/5 (up to 8 with nex door annex). Panoramic terrace.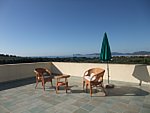 A villa with the most wonderful sea views, surrounded by secular olive groves a few kilometers from the beautiful white beaches of Alghero.
The Abbey Apartments
Alghero's Old Town. Sleeps 6 or 2+2. Wi-Fi.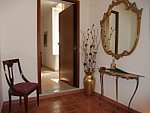 A spacious charming 2 bedrooms and 1 bedroom apartments with wonderful balconies opening onto the picturesque old square and a smaller with one bedroom as charming and elegant perfect for a couple or a small family.
La Torre Apartment
Alghero. Sleeps 7. A charming beach apartment.
A charming beach apartment skirting the sea and a secluded sandy cove. Almost surrounded by water, nestling between rocks and a sandy coves. This romantic apartment is located on the first floor of a tower built in 1800 and surrounded by the private park 10km from the Catalan citadel of Alghero. Perfect for a couple seeking privacy and tranquillity but also for a small family. The tranquillity of this place is highlighted by the private park dotted with olive trees and wild juniper trees which lead to the sea and are part of this exclusive estate.
Our Villas in Stintino
Villa Marta
Stintino, near Alghero. Sleeps 5/6. Private pool. Short drive to wonderful conservation beach.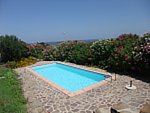 The villa is set in peaceful location within a park scattered with private villas, very charming and exclusive. The beach (Le Saline Beach) is a few minutes by car.
Villetta Melograno
Stintino, near Alghero. Sleeps 8. Walk to beach. Peaceful location.
Enveloped on three sides by a shady garden which is accessed directly via a staircase hidden amongst the vegetation, this comfortable, well-kept house enjoys plenty of privacy and it is set in a peaceful location, walking distance to sandy coves and further away but still walking distance long winding beaches with soft sand, amongst which the most famous is La Pelosa Beach.
Villa Asfodelo
Near Stintino, Alghero. Sleeps 8/10. Private pool. Air-conditioning.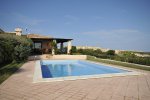 This exclusive villa is situated in the Country Club Residence, a few minutes drive to the beach and the small picturesque village of Stintino. The house will be perfect for a family or friends which must have the comfort of a very modern and perfectly equipped home whilst on holiday.
Cala Lupo
Cala di Lupo, near Alghero. Sleeps 4/5.
Air-conditioned. On a sandy beach. Shared pool.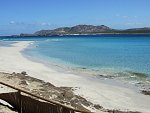 A seaside bungalow with garden with tall pine trees and sea views. Fully air-conditioned, a short walk to a secluded scenic sandy beach. Perfect for a couple or a small family.
La Pelosa, Ezzi Mannu, Ancora, Argentiera, the unspoilt beaches of "Villaggio Nurra" (with amazingly clean water) surrounded by Mediterranean macchia (vegetation) scattered with grazing sheep, these are amongst the beaches one can visit, whilst staying in Stintino.
For those who want silence and solitude even in August we recommend Rena Grande (At Villaggio Nurra). The beach is kept unspoilt due to its position at the bottom of a highland. The water is so pure here and warm! These are some of the beaches one can visit, whilst in Stintino.
Stintino is a real "diners" paradise, a place where fresh, high quality food is at home. Restaurants such as La Pelosetta (situated on La Pelosa beach in a most charming position directly on the edge leading down sandy dunes) are amongst the best but Valentina, La Darsena, Da Lia, Capo Falcone also offer fresh, nice food especially fish specialities and great pizzas! Il Gabbiano Restaurant is built directly on the beach, perfect for dining al "fresco", whilst the children can have fun playing on the beach.
STINTINO WIND SURFING AND PADI RECOGNIZED SCUBA DIVING CENTRE IS OPEN FROM MAY TILL OCTOBER. Situated directly on the beach it has English speaking instructors and scuba diving and sailing courses for any age – starting with the "bubble makers" course for 7 years old.
In Stintino there is also a modern Tennis Club (in Capo Falcone) open till late at night with instructors. In the summer Stintino's ancient squares host evening markets and dance events, during which the sound of South American music fills the roads and the promenade alongside the sea.
Finally for the "Italian Experience", Alghero awaits you with its cobbled narrow lanes, where colourful washing creates cool shadows during hot summer days and at night a variety of markets and restaurants open their doors offering a welcoming atmosphere with nice food. Stintino is also the town of churches and museums, a place where history and tradition meet the eye of the visitor.
Authenticity
This ancient pastel coloured fisherman's village has kept its authenticity for hundreds of years. It is situated between the old port, Porto Vecchio where the fishing boats come back to harbour and Porto Nuovo, the Tourist Marina.
In Stintino you can still see the old sea captains meeting in the village "piazza", gossiping about everyday life or sitting around in the sun at the corners of Lungomare Colombo, Stintino's "Promenade". The walk along the village beach between the old and the new port is delightful.
The restaurant Lu Fanali, situated by the Lungomare, is one of a few places where aperitifs are served on the veranda by the sea in the summer. La Darsena is another restaurant where supper is served on the terrace overlooking the sea.
Excursions To Asinara Island
Asinara Island … an untouched paradise of unimaginable beauty. It has now become a National Park with white beaches and rare fauna. It is also home to the only race of small albino donkeys in the world. It is also the perfect spot for scuba diving.
Untouched nature. Nature has been particularly generous with Stintino - the sea is the colour of the most transparent sapphire and the sand is white: La Pelosa beach and Le Saline frame Stintino. The long Saline Beach is connected to ancient salt pans, which are home to the many elegant pink flamingos during their migrating months.
During the highest of summer, there is a beach which remains undiscovered, Rena Grande (near the small hamlet of Pozzo San Nicola) at Villaggio Nurra. An unforgettable place with incredibly clean water with white round pebbles (no sand).
Ezzi Mannu is also a nice beach, with a wooden kiosk, less known than La Pelosa, it has a romantic feeling about it. Perfect for a late afternoon swim or during the day, tucked away as it is it has always less people.
Exquisite Restaurants And Fresh Fish
Stintino's roots lie in a seafaring culture consisting of daily fishing and the big seasonal tuna fishing. As daily fishing is one of the main economic sources of Stintino, this guarantees fresh fish and unique lobster dishes!
There are many restaurants, which serve excellent food, specializing in lobsters and sea urchins. La Pelosetta is one of them. A place to eat whilst listening to the waves and looking at the sun going down at la Pelosa beach.
Behind Capo Falcone on the north West Coast the cliffs of the open sea reflect the wild beauty of this land. Long walks are an inviting prospect given the beautiful untouched countryside.
Special Event
A date not to be missed is the last week in August when the international sailing regatta of the historical Latin sailing boats "Vela Latina" takes place.
How To Get There
Stintino is situated less than 40 km from the Alghero-Fertilia airport. Ryanair flies there from Stansted twice daily in the summer and once a day in winter. There are also flights from Gatwick, Birmingham and Ireland. From Olbia and the Costa Smeralda, Stintino is approximately 2 hours drive away. It is just 30 km from Porto Torres, which has daily ferry connections with Genoa and Civitavecchia as well as Livorno and Toulon in France.
Airports
Alghero Airport (Fertilia) is 40 km to Stintino.
Olbia Airport is 2 hrs from Stintino.
Cagliari is 2,5 hrs from Stintino