Sardinia's Generous Gift…
Coming from the sea, the island of Sardinia offers unusually attractive scenery of granite rocks surrounded by white sand, which gives the water the renowned emerald green color.
Landscapes of unspoiled nature have always enchanted the navigators coming to Sardinia. It is on the coast that most visitors remain, enchanted by the fragrant sea air, which tastes of salt, juniper and lentischio. Within short travel distance from their homes they will find dunes of golden sand encapsulated by granite rocks, lapped by the most transparent water and like on the small island of Spargi sand of light pink shades, the fine dust of red corals.
No matter if you arrive in Olbia, Alghero or Cagliari. From the emerald water of Costa Smeralda to the salt pans of South Sardinia, where pink flamingoes spend the summer before migrating to Africa, the landscape change yet the enchantment remains.
Equally beautiful – the walled town of Alghero with its long picturesque promenade alongside the sea, or Orgosolo, set amongst cork trees in Sardinia's inland, who's murals tell stories of bandits and miners, the unusual charm of these places wins the visitor's heart.
Prince Karim Aga Khan was in the 60's bewitched by the beauty of the stretch of the coast North East of Sardinia and decided to buy a poor stretch of Gallura.
Porto Cervo with its top luxury villas was created from nothing and with Porto Cervo the extreme luxury of Costa Smeralda, remaining the favorite destination of international jet set.
With 1,850 km of coastline, Sardinia, the land of shepherds, arid yet so beautiful, pierced by granite rocks and embellished by the emerald of its water waits silently to welcome its visitors with generous gifts.
The most charming villa: Villa Ermione
(щелкните для перевода на русский)
Costa Smeralda. 30 metres to secluded sandy cove. Sleeps 9/10.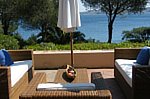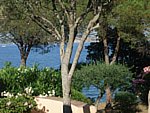 Villa Ermione is a very special property. Built just a few metres from the water's edge, with it's own private mooring, leading to a small sandy beach and clear Mediterranean water, the villa sits in a lush private park. A property of greatest charm!
Villa Sophia
Costa Smeralda. Sleeps 10/12. Heated swimming pool. Wi-Fi. Sauna.
New to our collection and available July, August and September.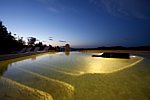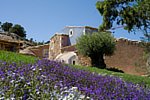 A luxury villa of greatest charm built by Jean Claud Lesuiss, to enjoy Costa Smeralda at its best. Walk to beach. Heated swimming pool. 5 elegant suites with views of the whole coastline and ample terraces allowing the views to enter every corner of the house.