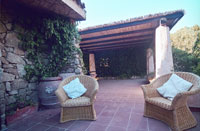 Villa del Sole is a large peaceful villa, surrounded by gardens scented with flowers. A large olive tree dominates the front garden giving the villa ample shade during the hot summer months. It is a truly charming home situated in the area overlooking the bay of Punta Molara and the large granite island of Tavolara.
The large first floor terrace has magnificent views and is an enchanting place for sunbathing and enjoying this wonderful corner of Sardinia. The shaded patio boasts a wrought iron dining table for 12 people and a built-in barbecue. Comfortable cane chairs on the veranda help to create the perfect atmosphere for a relaxing stay, an invitation for an authentic Sardinian vacation.
The interiors are immaculately kept. A well-equipped kitchen with fridge-freezer, oven and hob leads up to a large living/dining room with air conditioning, television, fireplace and striking terracotta floors with a beautiful gloss finish made by local craftsmen. The stunning choice of floor and wall decorations can also be admired in the bathrooms, which boast hand painted Sardinian tiles.
The lounge leads onto a charming terrace covered by the foliage of the olive trees and comfortably furnished, a peaceful corner in which to enjoy a warm and fragrant summer night. A very comfortable, air-conditioned double bedroom with a characteristic wrought iron headboard, a twin bedroom and a bathroom with shower are situated on the ground floor of the villa.
Across the outside patio and down a set of steps is a separate dwelling, also air-conditioned, which consists of a spacious room with en-suite bathroom with a double bed and equipped with 2 single sofa beds. The room also has a little kitchen area with 2 rings on the hob, a sink and a fridge.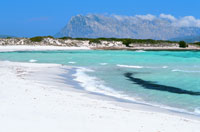 The small sandy beach of Cala Ginepro overlooking the magnificent sight of the Isles of Tavolara and Molara is a short drive away, approx. 350 metres. The nearest village is a five-minute drive or so away. Many other wonderful sandy beaches are just a short drive away such as the delightful Porto Taverna, a long winding sandy beach with clean turquoise waters.
For a special day out, an excursion to Tavolara Island from the neighbouring village of Porto San Paolo and across the bay by boat is unforgettable. Here you can go for a swim on the island and have lunch at the charming restaurant of this marvellous islet - the smallest kingdom in Europe!