Villas in La Maddalena and Santa Maria Islands
Villa Bonita
La Maddalena Island. Sleeps 8. Very short distance to beach.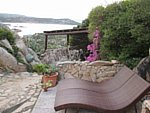 A private villa which will grant with its breath-taking views and its privacy a regenerating, relaxing holiday full of sea and sun.
Beach Residence
Beach bungalows and apartments on a secluded, romantic cove.
Sleeps 4/6. La Maddalena. Sardinia.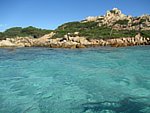 A secluded and picturesque residence just 5 km from the historic centre of La Maddalena Island, off main land Sardinia. Built on a picturesque cove, wild and stunning, where there was a granite quarry, amongst Mediterranean shrubs and rounded granite rocks.
Villa La Baia
La Maddalena Island. On the beach. Sleeps 10.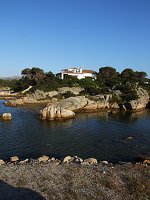 Luxurious 5 bedrooms villa built on secluded sandy beach – a unique retreat on one of the most beautiful shores of the Mediterranean. Newly refurbished.
Villa Luciana
La Maddalena Island. Sleeps 13. On the beach.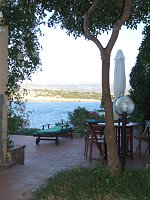 Built directly on a sandy cove in a very private, reserved corner of La Maddalena Island. One of best protected shores of the Mediterranean.
The Villa can be rented either as a whole or just the first floor of the villa sleeps 9.
La Maddalena
La Maddalena has recently become one of the most "in" places in Sardinia, where people book accommodation early in the year to be sure to find availability!
La Maddalena village centre, with its lively port is a bustling coastal village which reminds us a bit of the French Riviera and places such as Nice. It has a historic town centre with characteristic restaurants, bars in the "piazza" and many boutiques.
Half of the island is totally protected and therefore more than 50% of the Island are uninhabited. The coastline are strikingly beautiful and wild with many sandy coves and beaches some of which can only be reached by boat.
Nearby are another smaller islands which together with La Maddalena create the Archipelago of La Maddalena, one of Sardinia's best protected and most beautiful coastlines, strictly protected by conservation laws, and uninhabited.
About La Maddalena and the Archipelago,
the most beautiful of the Mediterranean Sea!
The Archipelago of "La Maddalena" encloses seven main islands — Maddalena, Caprera and Santo Stefano in the South East, while Spargi, Budelli, Razzoli and Santa Maria are in the North western area — and 55 little islets. The entire area is included in the national park of the archipelago of La Maddalena (established in 1994) which manages the above mentioned park and its surface of 5100 hectares. Each islet is surrounded by a protected marine area, whose width runs from 300 to 500 meters, while the overall marine surface of the park is 15.046 hectares. This group of islands and islets form 180 km of coastal area.
The area was included within the Cetacean Sanctuary, due to frequent sightings of cetaceans in autumn and spring time.
The flora on the island accounts for 750 different species, typical of the coastal schlerophyllici thermo-xerophylae shapes. Here the phytocoenoses of alorupycolae areas, psammophyilae and primary garrigues prevail, all characterized by a strong presence of endemic components.
The benthic marine community is relatively untouched; among the natural hazards we can list wide marine meadows (Posidonia oceanica) and lime carpets of red algae. The Mediterranean limpet, indicator of highly oxygenated and clean water is quite common over the archipelago's coasts.
Many species of cetaceans live in these waters, being the archipelago also an important site for dolphin reproduction.
How to get to Maddalena
Every half an hour in the peak season small ferryboats, mainly Salemar (www.saremar.it), leave PALAU to go to La Maddalena. The crossing time is approximately 20 min. The boats moor directly on La Maddalena island and main harbour.
Excursions to the Archipelago of La Maddalena are very popular, many offer "lunch" on board.